About him in a few words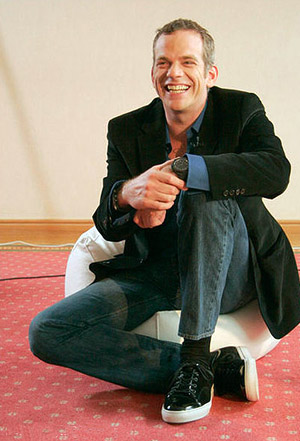 «I want to be open, to turn myself inside out, to give everything I can, to make people happy».
This phrase accurately describes Garou, the singer, who charges everybody with his incredible energy, every time he goes on stage. Many people, who enjoy famous French musical
«Notre Dame de Paris»
, in which Garou (this is actually his stage name) had the leading rolе of ugly hunchback Quasimodo, also admire his creativity. But, of course, he is known not only for that. All solo songs by Garou deserve a big attention, because it is filled with raised dedication, emotions and skill. Garou was playing Quasimodo in «Notre Dame de Paris» for two years, moving from Montreal to Paris, from London to Brussels ... In 1999 he received several prestigious awards for his role, including «World Music Award» for the song «Belle», which was №1 in French charts for 33 weeks and was recognized as the best song of the fiftieth anniversary. In 2000, Garou, and several stars of French Stage, in particular, Daniel Lavoie and
Bruno Pelletier
, took part in English production of this musical, which has become very popular.
After the great success of «Notre Dame de Paris», Garou, already known to the general public, gets a lot of different proposals and becomes really famous.
Daniel Lavoie played the role of the priest Frollo. But their acquaintance happened long before that.
Garou's memories of Daniel: «Oh, Daniel! My Daniel, whom I can never thank enough. Because Daniel always had his hand on my shoulder, he was my moral support, he was this wisdom, when Notre Dame started. This is the wisdom of equanimity. The calm of his family, which he greatly loves, the calm of his music. He is a true musician. He is not a man of compromises in the music. This is the artist, who supported me from the beginning. Who let me to understand the profession. Daniel! A huge thank to you for giving me my first chance to get on television! Because it is Daniel, in fact, who invited me on stage for the first time. And I hope, that we will sing «Danse du smatt» together again. This could be done now, but I don`t know whether you have the desire to sing a small piece of it with me».

At the end of 1999, Garou, together with the entire troupe of «Notre Dame de Paris», took part in the New Year show by Celine Dion. At the same time she was preparing for her concert, dedicated to farewell with Montreal.

Now a solo career of Garou is developing quite well. His first album «Seul», mentioned above, has been sold in more than 2 million copies. And thanks to the popularity and success of the musical «Notre Dame de Paris», he is now one of the most famous artists in Francophone countries. In 2001 he gave more than eighty concerts in some of these countries, and his album «Seul ... avec vous» got Platinum status in France and Gold in Quebec. In March 2002, Garou gave a big concert at Stade de Bercy in Paris.

July 7, 2001 he became a father for the first time. A girl was named Emily. Mother is a former fashion model from Sweden, her name is Ulrika. «Thanks to my lucky star, I`ve always had a very strong incentives to life. But on that day, when I saw the eyes of my daughter Emily for the very first time, I realized, that now my life had the true meaning»...February 12, 2010 Garou performed the song «Un peu plus haut, un peu plus» at the opening of the Olympic Winter Games in Vancouver.
In autumn 2010 he visited Russia with his new tour, dedicated to the album «Gentleman Cambrioleur».
Garou`s website: