Gérard Beauchamp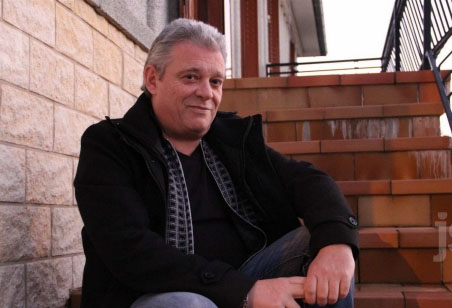 Gérard Beauchamp est tombé dans le chaudron magique de la musique dès son plus jeune âge: Son père «Roger Bob» batteur de son état éduqua son fils à la baguette!!! Gérard dès sept ans se produit donc à la batterie dans l'orchestre paternel, en parrallèle il prend des cours de solfège, de piano, de trompette. C'est tout naturellement que Gérard dipôme d'arrangeur en poche se met à la composition.
Gérard a écrit plusieurs musiques de film pour son ami réalisateur Jean-Luc Gantner, composé pour des spectacles de sons et lumières, des musiques pour la tv française...
Gérard Beauchamp a réallisé de nombreux albums de variétés et pour la petite enfance - des musiques spécialement réalisées par Gérard Beauchamp pour apaiser les crises de larmes et les chagrins des tout-petits. Ces albums sont distribués par les plus grands labels et maisons de disques: UNIVERSAL, EMI, WAGRAM, SONY BMG, NATHAN, SOCADISC.
Gérard adore écrire pour les cordes et autres instruments d'un orchestre symphonique. Une musique jazz, musette,rock, pop, folk: Gérard Beauchamp excelle dans tous les genres de styles musicaux. Gérard Beauchamp s'entourent d'excellents musiciens professionels pour enregistrer ses musiques: Phil Figueiras, Mirabelle Gillis, José Escoto, Robert Szcudlareck, Ivan David, Olivier Dullion, Yovan Girard, Christian Escoto, Pascal Brancher, Alexandre Tholon, Eric Gombart, David Marcuz, Bob Landser, Frédéric Gateau, Jean-Marc Bêche...
Gérard Beauchamp travaille à partir de ses propres textes et collabore avec les auteurs Roger Tabra, Emilio Armillès, Fred Kocourek, Martine Pratte, Mario Hart, Annie Maison, Kate Lynn, Pascal Brault, Pierre Bisiaut, Santé Trévisan... A ce jour plus de 200 textes sont disponibles. Plusieurs artistes lui ont font confiance parmi eux: Daniel Lavoie, Danny Boudreau, Nadège Vacante, Emilio Аrmillès, Dominica Mérola, Audrey Gagnon, Maïna Utzmann, Magali, Gilles Meunier,... ils chantent ou composent sur ses textes.

Très occupé par ses nombreuses activités de musicien, d'auteur-compositeur, de producteur et d'accompagnateur, entre le Québec, la Suisse, Paris et les différents lieux de concert, le musicien beaunois est cependant très discret dans sa ville.

Il vient de produire et réaliser «de A à Z», direction artistique et accompagnement au piano compris, l'album de Nadège Vacante, Les Arbres volent, pour qui il a composé treize chansons inédites. Dans ces dernières sont venues se glisser les plumes prestigieuses de Daniel Lavoie et de Roger Tabra, auteur français qui vient de recevoir la médaille de l'Assemblée nationale des mains du ministre de la Culture et des communications du Québec, Maka Kotto. Un objet particulièrement réussi. Gérard Beauchamp a quant à lui signé deux textes et dix musiques sans compter des arrangements et la participation aux chœurs, en plus de la tenue du piano et des synthétiseurs.
Non content de l'aspect musical, il a aussi réalisé les photos, l'infographie et la pochette.

Au Québec, il collabore souvent avec l'Acadien Danny Boudreau et, en ce moment, sur l'album de Roger Tabra en tant que compositeur pianiste. Il travaille aussi en Suisse dans des studios en free lance comme accompagnateur ou arrangeur. Il œuvre à la création de son propre album musical dans lequel ses textes seront narrés. Ce travail anticipe sur la musique de film qui lui tient à cœur dans le futur: «Je m'autorise tout, je ne veux pas de frontières».
Enfin, Gérard Beauchamp a joué sur le dernier album d'Amanda Lear «MY HAPPINESS» qui doit sortir le 17 mars 2014.

Gérard Beauchamp:
Daniel Lavoie en mai 2009 m'a fait l'immense joie de participer à l'enregistrement de ma création «Chats de Paris»... Daniel est venu interpréter 3 des chansons du livre cd et du cd sorti en octobre 2010 au stuio entouka de Paris Daniel Lavoie en avril 2011 récidive et interprète à nouveau 3 chansons sur le 2d opus de la collection: «Chats de Montréal». Depuis je collabore avec cet immense artiste pour l'album de mon amie Nadège Vacante. Daniel un artiste à l'écoute, professionnel jusqu'au bout des ongles, toujours souriant...
Un Grand Merci à à mon ami: Monsieur Daniel Lavoie, je viens de recevoir de sa part un courrier qui me fait un immense plaisir et cela juste avant de retourner en studio pour la suite de l'album. Quel grand bonhomme Daniel. Ca booste un max et ca met du coeur à l'ouvrage!

Je peux l'annoncer dès aujourd'hui mon ami Daniel Lavoie et moi même avons collaboré pour une chanson sur l'album avec Nadège et je peux vous dire qu'on est tous contents du résultat YEAH!!!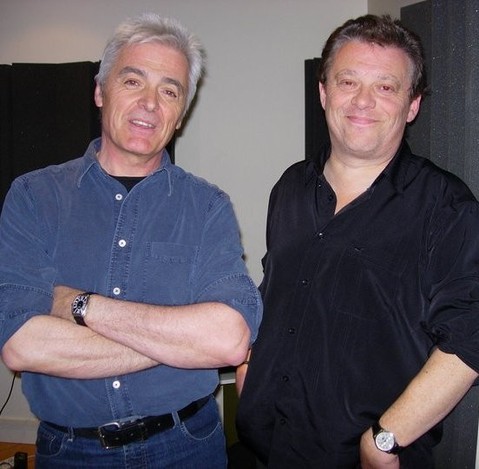 Photo: Gérard Beauchamp avec Daniel Lavoie Enregistrement de l'album «Chats de Montréal» (2010)
Gérard `s website:

http://beauchampg.wix.com/gerard-beauchamp-compositeur
Last Updated (Friday, 24 January 2014 10:08)
Guy St-Onge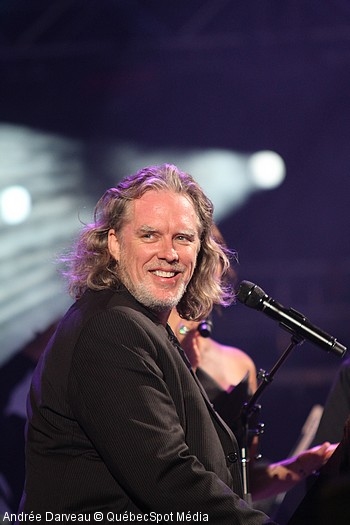 «Music! Mother of all arts!»
(Guy St-Onge)
Guy St-Onge is a man of many talents. A conductor, an arranger, a multi-instrumentalist and a music director, this Canadian can be found in numerous fields. He was a music director for several TV shows such as the Métrostar, Célébration, Artis galas…As an arranger and a composer, he has worked for talk shows Ad-Lib, Chabada, Ca va être ta fête, Vero etc. He has also worked on the writing and directing musicals Don Juan and Sherazade.
He has made more than a hundred albums, and most of them were distinguished at the top of the charts. For the last 25 years, he has owned a recording studio. In 2009 he founded Guy St-Onge Sound Recorder Complex and equipped it with all the cutting-edge technologies for the audio.
Guy St-Onge: I designed Studio Référence in 1989, after thinking long and hard about the connections that could exist between an environment dedicated to the creation of music and the technical demands of making audiophile quality recordings.
The choice of St-Calixte (a municipality and town in the Lanaudière region of Quebec) as the location for Studio Référence was based on two criteria: the tranquility and natural beauty of the area.
My aim was to construct a temple for music that was also a studio with cutting edge technology.
In the last 20 years nearly 200 projects have been recorded at Studio Référence.
In 2006 I doubled the size of the complex in order to have the ultimate addition any studio could possess: a world class mastering room, Pure Mastering. My quest for pure sound as well as my need to offer to musicians and artists an ideal place for creation has over the years resulted in what we now have today: Guy St-Onge Recording Facilities Studio http://www.studioreference.com/
Philippe Brault: I remember that 3 or 4 years ago, in the recording studio I had built, there were wallpaper images of a place that seemed like paradise for all sane musicians who have ever dreamed of recording an album ... Guy St-Onge's StudioRéférence http://carufel.ca/2012/03/16/guy-st-onges-et-philippe-brault/
Maeva Meline: I would like to name all the marvellous people I have had the honor to work with, because without them we can do very little: Thank you Guy St-Onge, our Santa Claus and on top of that - the orchestral conductor;)
As for CDs, he has worked with many international artists: David Bowie, Céline Dion and several others (he lately realized Gregory Charles and Ima's albums). After collaboration with Michel Legrand, he emerged as a conductor.
He has also collaborated with several well-known symphony orchestras, such as The Prague Symphony Orchestra and The Montreal Symphony Orchestra. He also worked with the symphony orchestras of Quebec and Vancouver.
Guy St-Onge has a jazz trio (Patricia Deslauriers Trio) that plays in Canada and Europe.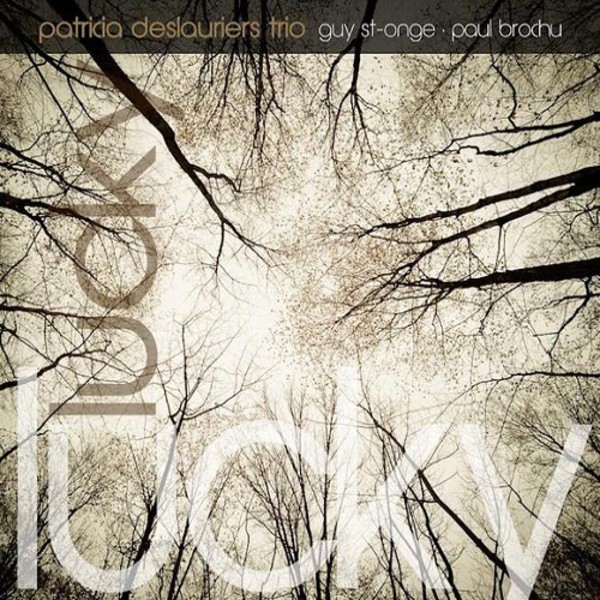 The trio's new album, «Lucky Lucky» is an exiting rendition of Richard Desjardins's music by Guy St-Onge, Paul Brochu et Patricia Deslauriers. Instrumental music with the piano so genuine is feels as good as a massage. This relaxing music removes all the stress of your day.
He has recently conducted the Kiev Symphony Orchestra during «Notre Dame de Paris, the concert» with the original cast in Kiev, Moscow, St. Petersburg and Paris (Bercy), and «Mozart l'opéra rock, the concert» in Russia and Kiev. Guy has also orchestrated both events.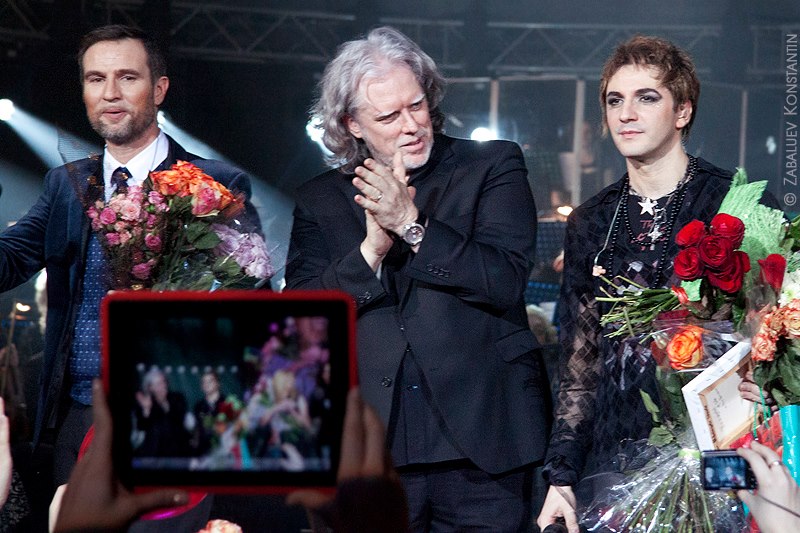 Guy St-Onge: I can't keep it to myself! One of my cherished dream is going to be realized: I will direct the AVE VERUM CORPUS de Mozart with the choir and orchestra of Kiev (Ukraine)in Moscow, St-Petersbourg and Kiev in february 2013!!
I've received such magnificent gifts only several times in my life. Tonight in Kiev we premiere the «MOZART OPERA ROCK, the CONCERT». Three months of writing, a week of rehearsal, incredible symphony orchestra of 70 musicians, a great and powerful choir of 40 voices, a dream team ..I know, I know... It all sounds too good to be true, but (do not tell anyone) I still feel a bit like they have the wrong address!!!! This is too good to be true!! Thank you life.
What a great success and happiness! The adventure «MOZART OPERA ROCK, the CONCERT» begins brilliantly! The enthusiastic public, perfect sound and breathtaking lighting
..Happiness: Being with my son Matisse (9 years) in St. Petersburg and directing the orchestra!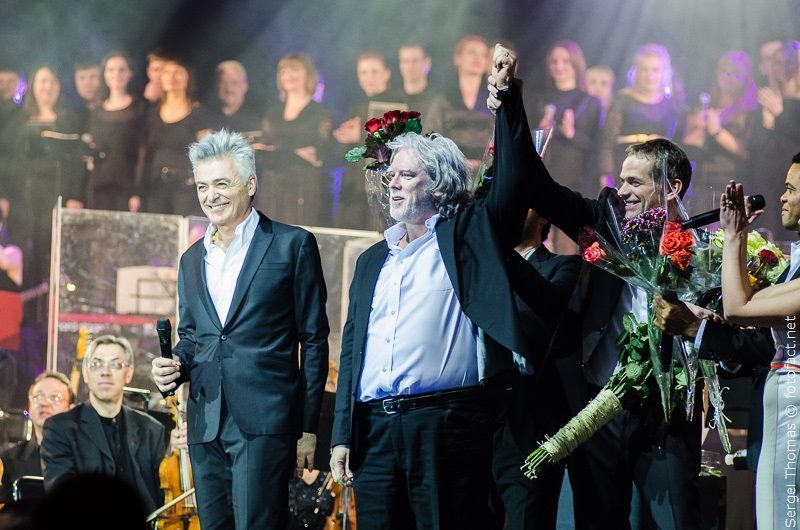 About «Notre Dame de Paris, the concert»: Mission complete. We gave happiness to thousands of people! The only sadness is that I leave behind the Kiev Symphony Orchestra .... Fantastic musicians, sensible people and especially FRIENDS FOR LIFE! :) :) :) :) :) :) :) :) :) :) :) :) :) :) See you soon my friends Ukrainians!
Guy St-Onge: One of the best photos of the concert in Moscow! The great Daniel Lavoie!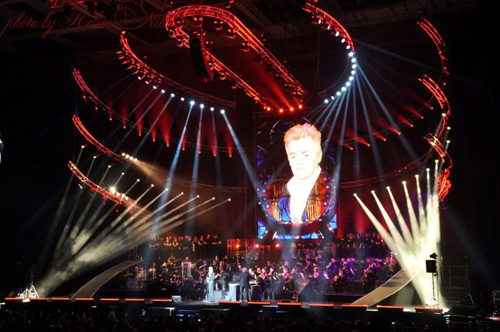 Guy St-Onge: Daniel! I've known you as a singer, but recently I've discovered you as an extraordinary man and a great friend. You are a gift in my life!
In Russia the name of Guy St-Onge has become a symbol of genius. Russian fans held this poster during «Notre Dame de Paris, the concert».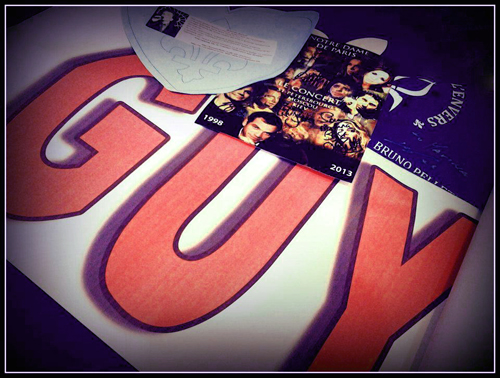 Guy St-Onge: Is that my name ????????????
Fans: Yes, it is a part of a banner GUYnialno (=génial) which we raised at the end 08.03.
Guy St-Onge: Wow! That's a first in my career........ I am touched right in the heart! Thank you everybody ! XXXXXXXX
---
Guy St-Onge was born in Montreal. He is married and has 5 children. (I am a father 5 times...It is an extraordinary happiness and joy.)
Discographi:
Gregory Charles (Loin de la lumière, I Think Of You )
Ima (Smile, A La Vida)
Céline Dion
Giorgia Fumanti
Daniel Bélanger
Beau Dommage
Don Juan (Comédie musicale)
Sherazade (Comédie musicale)
Paul Horn
Michel Legrand
Angèle Dubeau
Nathalie Choquette
Jean-Pierre Zanella
La Volée d'Castors
Claude Barzotti
Gérard Lenormand
Martin Deschamps
Annie Villeneuve (Noël chez moi)
Anne Bisson (Portraits and Perfume, Blue Mind) и.т.д.
http://www.lexpressmontcalm.com/Culture/Arts-et-spectacles/2012-12-17/article-3141783/Concert-de-Noel-au-profit-des-Ailes-de-lEspoir/1
Last Updated (Saturday, 09 September 2017 00:15)