Félix Leclerc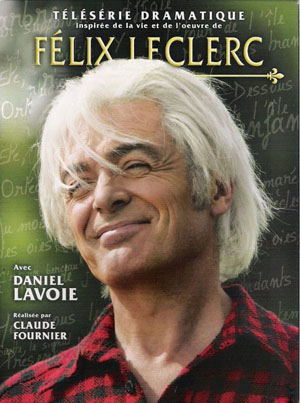 Year of the release: 2003
Release Date: February 28, 2005
Location: Canada, France
Language: French (Russian subtitles)
Genre: Drama, Biography
Length: 180 minutes (4 series of 45 minutes)

Directed by: Claude Fournier
Screenplay: Claude Fournier, Francois Mizho
Producer: Stephane Marsil, Marie-Jose Raymond
Operator: Mathieu Czernichow
Music: Joran

The cast: Daniel Lavoie, Catherine Senart, Florence Thomassin, Michel Forget, Marc Berman.

This film is the biography of the great Quebec writer, composer and singer Felix Leclerc. It is about his life and work and covers more than 30 years of Leclerc`s life, since the very first test-recording of the song until his death...ups and downs...Paris and Montreal... the struggle for Quebec freedom... the music.
Leclerc`s music accompanies the whole film. Major role in this movie was played by Daniel Lavoie. He performed all Felix songs.
Daniel: «I met with Gaetan, Felix wife, and she told me, that I was 22-23 years old, when she and Felix saw me on the TV for the first time. I`ve just arrived from Manitoba. She asked her husband: «Tell me, did you have any girlfriends in Manitoba?»
In 2005 Daniel released the album «Moi mon Felix».
Video: Lavoie Horizons Lointains Quebec ARTE