Boogie - woogie 47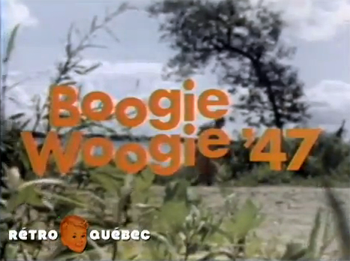 Release date: 1980 -1982

Country: Canada

Languaue: French

Genre: Drama

Script: Claude Jasmin
Video: Boogie Woogie 47 - Promo - 1981
Cast:
Michelle Allen ... Luce Jobin
Yolande Binet ... Ginette Galarneau
Denis Bouchard ... Lionel Royal
Alpha Boucher ... M. Joannette
Marc Briand ... Jean-Jacques Desormeaux
Jean Brousseau ... Esdra Jobin
Yvan Canuel ... Ubald Groulx
Diane Cardinal ... Élyse Dessaules
Henri Chassé ... André Valence
Sophie Clément ... La Kouriane
Christiane Delisle ... Mme Siguoin
Larry-Michel Demers ... Phil Ménard
Claude Desrosiers ... Roland Denault
Marie Dumais ... Lise Galarneau
Yves Fortin ... Yves Labbé
Danielle Frappier ... Carole Prézeau
Raymonde Gagnier ... Micheline Garon
Roger Garand ... Sylvio Kouriane
Roger Garceau ... Roger Thouin
Éric Gaudry ... Rosaire Plouffe
Réjean Gauthier ... Réjean
Renée Girard ... Irène Prézeau
Yves Jacques ... Denis St-Cyr
Monique Joly ... Mme Labbé
Marc Labrèche ... Clovis Jobin
Robert Lalonde ... Irénée Pétrie
Geneviève Lapointe ... Mireille Jobin
Marie-Josée Laporte ... Nicoletta Jobin
Daniel Lavoie ... Jean Lorion
Sophie Lavoie ... Monique Brion
Hubert Loiselle ... Narrateur
Béatrice Picard ... Mme Dessaules
François Pratte ... Robert Cousin
Louise Rémy ... Gervaise Jobin
Reynald Robinson ... Roger Groulx
Martine Rousseau ... Gisèle Sigouin
Olivette Thibault ... Yvonne Valence
Béatrice Van Til ... Maryse Jobin
Suzanne Turmel ... Luce Jobin
Gilbert Turp ... Gilles Lozeau
Joanne Verne ... Jeanne Bélanger

We're in 1947 in a country house Pointe Kalumah, where many families are coming from Montreal for the summer. Women spend weeks alone, waiting for their husbands. So on the weekends they're watching life around.
Young people are having fun and listening to their favorite music (Boogie Woogie). Some of them are becoming friends, while their parents begin to worry about the consequences of freedom ...