Television and radio broadcasts in 2012
• January 9-10. «Quebec, the history of the family».
Lavoie`s family history will be shown on Réseau TVA during one week since.
January 9.
Daniel Lavoie reveals his roots. histoire de famille Montreal - Daniel Lavoie is a descendant of one of the two Lavoies 35 0000 Quebecers, bearing that name in Belle Provence, lead their roots from.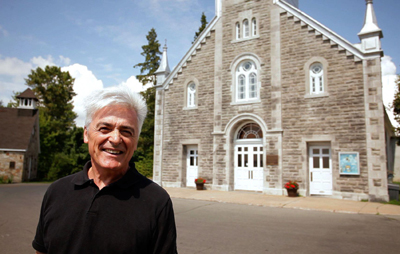 In one of documentary series, «Quebec, family history», the singer tells about his ancestor`s relocation to Manitoba. This series will be broadcasting on TVA and LCN during a week, starting February 9.
The other participants are very special ones. Pierre Lavoie, who created «Le Grand Défi» by Pierre Lavoie, is among them, as well as Sylvain Genet, the grandson of Jeanne d'Arc, Lavoie-Genet, the one who stayed in the famous White House, stood in the summer Saguenay flood in 1996.
The narrative is Chantal Lavoie, who is the hostess on Radio-Classic for 13 years now.
Lavoie is the 8th most common surname in Quebec
---
• March 2, 19-30 - Radio Canada Broadcasting «Face to face with Daniel Lavoie».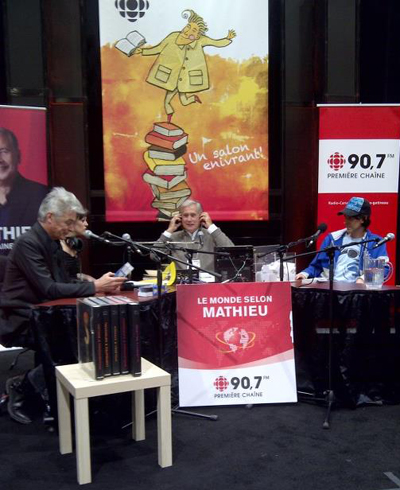 The author, composer, singer, actor and now also a writer
«Finutilité» author.
The host: Daniel Mathieu
On channel 90,7 FM.
Place Yves-Thériault (Radio-Canada)
---
• March 3 - The radio program: «We`ll see everything».
The interview with Daniel Lavoie's concerning his upcoming concerts.
---
• March 8 - Participation in the TV program on Sud Radio along with Sandrine Mazetier, Manuel Aeschlimann and Diane Tell.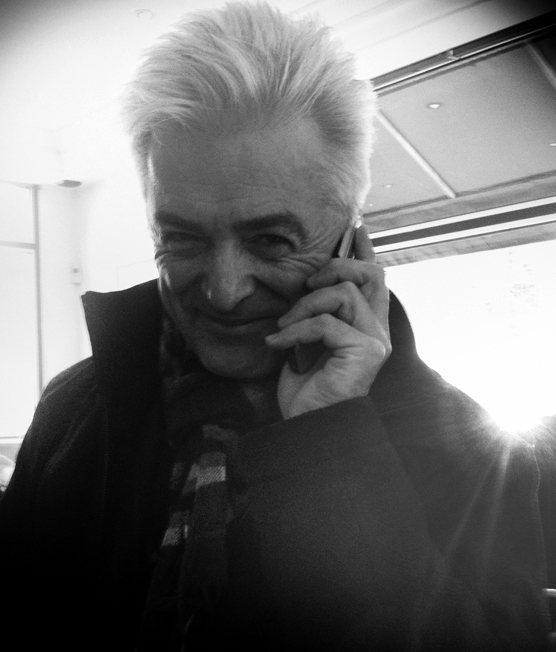 Diane Tell: In Sud Radio studio Daniel Lavoie pursues me, we crossed twice in one day - on the set ... and in Bistro ..
http://www.dianetell.com/24-h-promo-saison-31-episode-6-ma-fashion-week-a-moi-rideaux-ouverts-a-paris/
---
• Marhc - «Sous les Etoiles» avec Serge Levaillant Inter.
---
• April 3 -The radio program «Sous les toiles exactement» (Just beneath the stars). Batlik, Fred Raspail and Daniel Lavoie are invited. The host - Serge Levaillant.
---
• April 14 - Daniel Lavoie participated in «Là ou je t'emmènerai» program on TF1.
---
• April 14 - The TV program «Apéro à Québec». TVA Channel. It appears on Saturdays at 13.00, repeated on Sundays at 15-30.
Stepping back, the author-composer-singer Daniel Lavoie wanted to give the new life to his songs, to give them what they really deserve. Look at the result on his very recent album «J'écoute la radio». In addition to this - the 1st collection of poetry essays, entitled as «Finutilité».
---
• April 26 – TV program «Le Graand Studio De RTL».
Daniel Lavoie presented while the recording.
May 5 - the broadcasting.• May 2 – TV emission «Au programme» / «In the program today» on the channel FRANCE 2
Host: Damien Thévenot
Guest: Daniel Lavoie
---
• May 2 – TV program «Au programme»/«In the program today» on the channel France 2.
Host: Damien Thévenot
Guest: Daniel Lavoie
The album: «J'écoute la radio», beautifully designed by Marc Perrusse, is the album with strong lyrics, which needs to be re-opened in a new arrangements. After hearing one of his old stuff on the radio, he set about trying to rework the songs. According to René Homier-Roy, the result is gorgeous and especially exciting.
---
• May 5 16:55 - «Chabada» (France 3).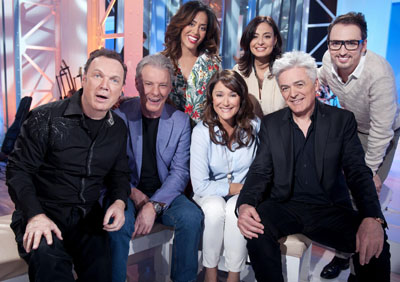 The unique musical rendezvous will share special moments with the talented artists in the intimate warm atmosphere. Guests and artists of different generations pay tribute to the great names of the past and contemporary French Song. The stars will sing live (acoustic sound) unknown versions of the most beautiful french songs, accompanied by talented musicians. All together, they will give the reprises, improvisations as well as the dramatic duets.
Guests:
Herbert Léonard
Christophe Willem
Amel Bent
Daniel Lavoie
Video: Daniel Lavoie interprète son titre 'Ils s'aiment' dans Chabada (24.06.12)
Video: Daniel Lavoie - Chabada (20.05 2012)
Video: Chabada (France 3) - Daniel Lavoie
---
• May 6 - Emission spéciale Québec / Quebec Special Program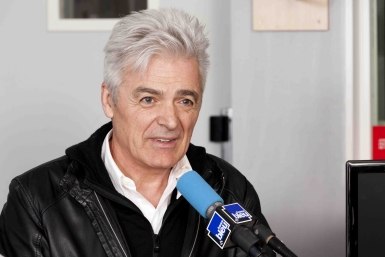 Daniel Lavoie is revising his songs, including «Ils s'aiment» in his new album «J'écoute la radio», released in April 23 2012. Just remember, he played Frollo in the musical «Notre Dame de Paris». The song «Belle», which he performed next to Patrick Fiori and Garou, has been sold in 3 million copies. Daniel Lavoie will be on tour in 2013.On Saturdays and Sundays from 14 to 16 pm there will be the host Serge POEZEVARA, together with Danielle MOREAU and Fabien LECOEUVRE (repeated on Saturday and Sunday evenings from 22 to 24 pm). There are 2 hours every Saturday and Sunday to do a survey of music news, go through the memories, tell the songs story and reveal little secrets of the artists thanks to the passionate music professionals team. The singers of today and the past, but also authors, composers, musicians, producers, technicians ... come to share their experiences and reveal to us the reverse side of the backstage.
---
• May 15 – TV program «Ma musique au travail» / «My music at work».
RougeFM, the host - Audrey Benoît
---
• May 27 -L`émission «Chanson Boum!»
Magazine éclectique consacré à la chanson francophone internationale qui propose des rencontres avec les acteurs de la chanson contemporaine.
le samedi de minuit à 1h Durée moyenne: 59 minutes
Thème : Arts & Spectacles\ Musique
Daniel Lavoie, le franco-manitobain présente un dernier album en forme de revisitation.
Par: Hélène Hazéra
Par: Hélène Hazéra Réalisation: Patrick Molinier http://www.franceculture.fr/player/reecouter?play=4440659
• June 9 - «Belle et Bum» (TQc).
Émission 213
La touchante chanteuse et pianiste Catherine Major vient de lancer son troisième album, Le désert des solitudes. Ce dernier opus permet d'entendre une artiste au sommet de son art. Elle en offre quelques extraits. Avec son nouvel album, J'écoute la radio, Daniel Lavoie revisite tous ses grands succès en 40 ans de carrière, jouant avec les arrangements pour leur donner un ton plus actuel. Steve Hill nous présente quant à lui son sixième album,Whiplash Love, dans lequel l'énergie du guitariste est toujours bien présente, avec un surcroît de maturité. Il nous offre deux nouvelles chansons, en plus d'un duo étonnant avec Catherine Major. La guitariste Paule Magnan nous présente la chanson Faire rien, tirée de son album Futile résistance. Shawn Barker, celui qui personnifie le célèbre Johnny Cash dans le spectacle The Man in Black, fait revivre le célèbre chanteur sur le plateau de Belle et Bumavec le succès planétaire Ring of Fire. Finalement, la comédienne Geneviève Rochette est au Piano à gogo.
Rediffusion: Vendredi 15 juin 2012 - 22 h 55
http://belleetbum.telequebec.tv/emissions/213/9329/143/Genevieve_Rochette_-_repetition_1_-_emission_213
---
• June 16 - Programme «L'école des fans» (fan`s School).
---
• June 22- L`émission «En voiture avec Daniel Lavoie» .
---
• June 24 - Chabada - TV channel France 3.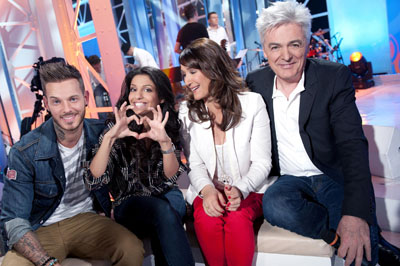 Last time for this third season with Matt Pokora, Tal and Daniel Lavoie!
---
• 7 Juillet - L`émission «L'obsession de Daniel Lavoie».
---
• 14 Juillet - The radio program «Les samedies du monde».

http://www.radio-canada.ca/emissions/les_samedis_du_monde/2011-2012/chronique.asp?idChronique=232906
---
• Avgus 17 20:35 - Les années bonheur en vacances.
Best of
Divertissement
Durée: 140 mn.
Une sélection des meilleurs moments de l'émission animée par Patrick Sébastien, entouré d'une pléiade d'invités.
Présenté par : Patrick Sébastien, Fabien Lecoeuvre, Isabelle Morizet.
Invités: Nicole Croisille, Francis Lalanne, Catherine Ringer, Adamo, Gérard Lenorman, Michel Fugain, Patrick Fiori, Les Chevaliers du fiel, Yannick Noah, Garou, Richard Anthony, Daniel Lavoie, Tex, Anggun, Antoine, Didier Gustin, Chris De Burgh, Claude Barzotti, Claudia Tagbo, Vincent Moscato, Percy Sledge, Holly Johnson, Noam, Snap, Chico & Les Gypsies, Gibson Brothers, ZamZam, Christophe Maé, les frères Nacash, King Africa.
http://www.cinetelerevue.be/fr/les-annees-bonheur-en-vacances.html?tv_id=67710296
• October 27 - Patrick Sébastien présentera sur France 2 un nouveau numéro du divertissement «Les années bonheur».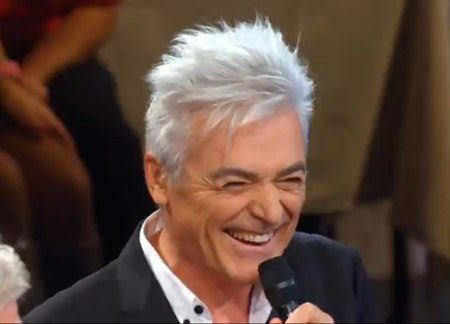 Comme toujours, nostalgie et bonne humeur au programme, Patrick Sébastien entouré de Fabien Lecoeuvre, Stone, Mathieu Madenian et Christelle Cholletreçoit de nombreux artistes, chanteurs, imitateurs et humoristes!
Il égrène aussi pour notre plus grand bonheur les petits secrets et les souvenirs de ces années. Une soirée festive et gaie en perspective avec:
Garou, Daniel Lavoie, Michaël Gregorio, Guy Marchand, Michèle Torr, Marcel Amont, Herbert Léonard & Cristina Marocco, Suzi Quatro, DJ Mam's feat. Jessie Matador & Louis Guisao, Petula Clark, Las Ketchup, Dany Brillant, David Koven, Come Back 80, Nossa, Chico et les Gypsies & Nana Mouskouri.
Sébastien, l'ami des artistes
Les personnalités se pressent pour participer à ses émissions, comme Les années bonheur Depuis des décennies, le succès des émissions de Patrick Sébastien ne se dément pas. Dans Les années bonheur ou Le plus grand cabaret du monde (France 2), ce dernier invite des artistes de tous âges et tous styles. Et ceux-ci ne se font pas prier pour venir.
«Cela fait partie des émissions françaises les plus agréables à faire. Patrick Sébastien est quelqu'un de très convivial et de généreux. J'apprécie aussi le fait que l'on chante accompagné d'un orchestre», confie Daniel Lavoie.
Tout l`article vous pouvez lire ici: http://tvmag.lefigaro.fr/programme-tv/article/divertissement/72336/sebastien-l-ami-des-artistes.html
---
• October 27 - «Les Annees Bonheur» avec Patrick Sebastien, en Prime Time France 2.
---
• November 12 - «L'invite» avec Patrick Simonin TV5 Monde.
---
• 13 December - L'enregistrement de l'émission Espace musique vous offre son chœur.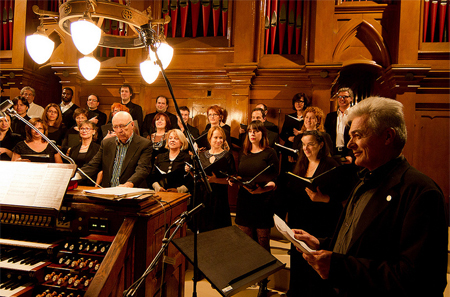 Le cinéaste Michel Brault m'a dit un jour: «Il est facile d'avoir une idée de film. Ce qui est beaucoup moins facile, c'est de faire un film avec cette idée. »Ainsi, l'an dernier, j'ai eu une idée de concert que j'ai soumise à ma réalisatrice, Odile Magnan. Ou est-ce elle qui a eu l'idée la première? Quoi qu'il en soit, ce projet s'est peu à peu matérialisé. Nous avons réuni nos collègues d'Espace musique et les avons convaincus de former une chorale. Évidemment, ils devaient offrir leur temps gracieusement, une fois, deux fois, voire trois fois par semaine! Sous la direction d'une de leurs collègues, Thérèse Lauzon, nous les avons fait répéter des cantiques de Noël en plein mois de septembre, puis en octobre, et aussi en novembre et en décembre. Toujours les mêmes airs, jusqu'à plus soif! Ils ont accompli tout cela sans se plaindre, le sourire aux lèvres, jamais rassasiés, plus enthousiastes de semaine en semaine, soutenus par l'accompagnement au piano de Maureen Frawley et plus tard, à l'orgue, avec Marc-André Doran. Il n'y avait pas de solo. Un travail anonyme et sans salaire, sans gloire, seulement pour le plaisir de le faire. Or, une fois tout cela terminé, et après les applaudissements mérités, tous ont insisté pour recommencer l'an prochain!
Si j'avais décrit cela avant l'enregistrement de l'émission Espace musique vous offre son chœur, on m'aurait poliment souri ou traité de rêveur. Pourtant, c'est exactement comme cela que s'est déroulé l'événement, réalisé de main de maître par Diane Maheux. Une réalisatrice spéciale, à plusieurs titres, puisqu'elle a permis la réunion spontanée des collègues d'Espace musique. C'est elle, aussi, qui a rapproché des artistes si différents les uns des autres que Claire Pelletier, Le Vent du Nord, Antoine Bareil, Valérie Milot, Daniel Lavoie et Catherine Major. Une réalisatrice bien spéciale, enfin, parce qu'elle m'a permis enfin de faire de la musique de la manière la plus simple, la plus vraie qui soit: avec des amis!
François Dompierre
---