Television and radio broadcasts in 2011
• April 27 - Cabaret Libre Influence with Daniel Lavoie.
Lion d'Or (Le), Montréal Daniel Lavoie, Edgar Bori, Émilie Proulx, Sophie Beaudet, Philippe Bouchard, Anique Granger, Suzanne Gagnon and Jean-François Groulx. For its 19th release, the project «Cabaret Libre Influence» united for one bright evening in Lion d'Or authors, composers and performers, who desired to immerse themselves into the creation and collaboration in order to offer the songs to the public on their own risk! The new team of courageous creators teamed up for this occasion: Daniel Lavoie, who acted as an artist-mentor at the event, Émilie Proulx, Sophie Beaudet, Philippe Bouchard and Suzanne Gagnon presented «the brand new songs» and an unusual collaboration, while Edgar Bori performed this time as a "guest songwriter" and offered to parse the texts of 2 new songs. Moreover, Anique Granger will compete in now the traditional «Instant Song»: as soon as the public offer the theme in the early evening, she should shut herself during the performance in the margins of Lion d'Or and create a song that will be performed on stage almost before the curtain falls! All these wonderful people will be performing guided by the talented management of Jean-François Groulx.
---
• April 30 - Lémission du samedi. Poems and songs.
Clara Furey, Moran, Daniel Lavoie and Philémon sing verses of the great poets - Verlaine, Aragon, Rimbaud, Ferré, Nelligan, Miron and Langevin.
During this wonderful evening, through a poetic detachment, they turned to their original creative sources in order to fulfill these poems by the highest quality.
Listen to:
http://www.radio-canada.ca/emissions/monique_giroux_fait_une_scene/2011/document.asp?idDoc=150130
---
• May 11 - La session du mercredi.
Daniel Lavoie and Jeremy Fisher.
Daniel Lavoie knew Jeremy Fisher only virtually, because they communicated only by e-mail. They agreed to meet here in person for the first time to create and perform together.
This meeting is the best opportunity to these 2 modest men, but the artists of great generosity to move closer is an even greater kind of respect. By the end of rehearsals and recording the relationship between them became more lively and warm and both enjoyed this time together.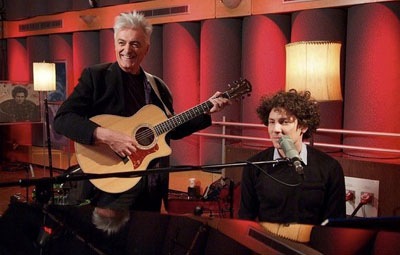 Songs performed by Daniel Lavoie
3 - Dance - danse (J. Fisher, D. Lavoie)
6 - Où la route mène (D. Lavoie)
Daniel Lavoie - vocals, piano, guitar
Jeremy Fisher - vocals, guitar, harmonica, piano.
---
• May 29 - Studio 12.
Hostess: Rebecca Makonnen.
Guest: Daniel Lavoie. Synopsis: Accompanied by one or a set of musicians, artists performs in an acoustic version or publicly, in a warm and intimate atmosphere.
---
• August 10 - The 8th direction: Winnipeg.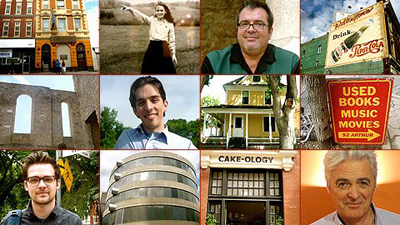 With its bustling cultural scene, where both Anglophone and Francophone artists perform manitobian capital definitely worth to stay in. Let`s follow Daniel Lavoie, Marc Prescott and Gabriel Tougas - they open us Winnipeg, a city center in Saint-Boniface, passing through historic neighborhoods.
http://www.radio-canada.ca/emissions/carnets_d_amerique/2011/speciale.asp
---
• October 2 - Studio 12.
Discovered in 2003, in the first season of Star Académie, Marie-Élaine Thibert released her fourth album in May. In Studio 12 she is accompanied by Daniel Lavoie.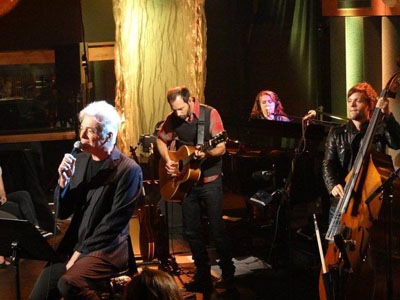 «When I got the envelope with the name of Claude Gauthier, which included the song« Sans toi » (Without You), I asked myself, is it Claude Gauthier. Thanks to him, I can express my woman desires more than ever, I still didn`t make it in a song.»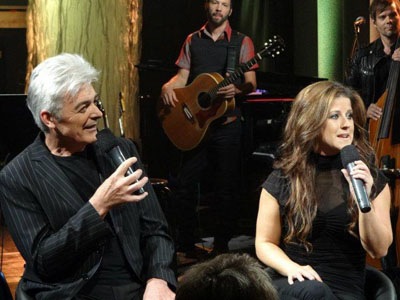 Also there is a love song in the album - «Tout doux» (Hush), written by Jean-Pierre Ferland; sensuality of words and a woman, it is in the song «Rupture en soie», which Daniel Lavoie wrote for Étienne Drapeau.
«I worked so many months, I believed in this album and I said that I couldn`t be in a better place at this point both in my personal and professional life. Yes, «Je suis» ... this is me », - she concludes, laughing with joy. Marie-Élaine Thibert is proud to be a singer, as she actually is. http://fr.canoe.ca/divertissement/musique/nouvelles/archives/2011/04/20110428-145711.html
Video: Daniel Lavoie - Le souffle de vivre (2.10.11)
---
• October 29 - TV emission «Belle et Bum» on Quebec television.
Episode 209.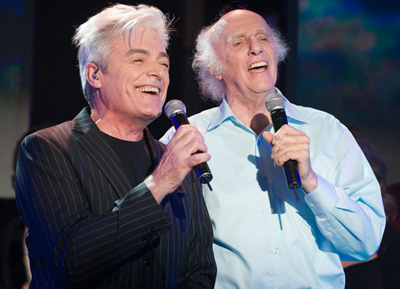 Despite this sad fall and the fact there are only 2 weeks his new album release, Daniel Lavoie attaches a great importance to the participation in this program with his friend Gilles Vigneault. They`ll sing «Il me reste un pays» together - a beautiful song from «Retrouvailles-2,» the latest album of Monsieur Vigneault.
---
• November 1 - The radio emission «Good Luck» on RTL.
It is the big news on RTL, Stéphane Bern joins Radio France in order to keep a brand new program of humor and good spirits. Surrounded by talented journalists, he daily live and in public introduces one creative person in order to be together with the audience for a half an hour.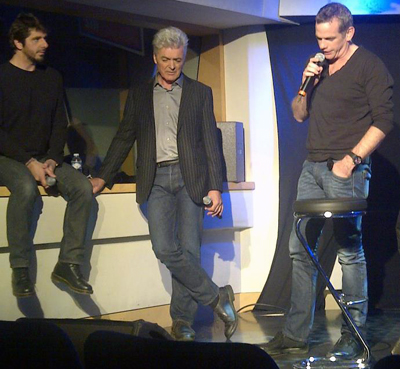 Garou: «I'm here at the rehearsals along with my friends for the promotion of «Notre Dame de Paris» concerts, which will be held in Paris in December 2011. We are in the program «Good Luck» on RTL radio in France. The program will take place on November 1».
http://www.rtl.fr/emission/a-la-bonne-heure/bienvenue
---
• November 7 - TV emission «Musimag»
---
• November 12- TV emission «50 Mn Inside»
The advertisment for «Notre-Dame de Paris» concerts.
A journalist who is interviewing says «do not just get to interview them, they are not so wise ... They are fools!»... They begin to sing one piece from the song and the interviewer said that he had burst eardrum - he was too close to Daniel .
• November 14 - Canoe TV «En vedette» Daniel Lavoie lance un nouvel album.
---
• November 16 - TV emission «Première heure». Daniel Lavoie is in Radio-Canada studio.
Celebrating 40 years of his career, Daniel Lavoie releases "J'écoute la Radio", the CD with his famous songs, sung both in a duet with other artists and solo. The excuse is rather simple: to review his works. But it also gives us the opportunity to rediscover the powerful and beautiful creations.
http://www.radio-canada.ca/audio-video/pop.shtml#urlMedia=http://www.radio-canada.ca/Medianet/2011/CBV/Premiereheure201111160843.asx
---
• November 17 - TV emission «Des kiwis et des hommes».
Guest: Daniel Lavoie.
The author-composer-singer Daniel Lavoie along with his piano gives us again his famous songs from the new album «J'écoute la radio», which went on sale November 15.
Daniel transmits «Lavoie libre» on the waves of «Espace musique», on Wednesdays from 22 pm and on Sundays from 19 pm to 21 pm.
He publishes his first book «Finutilité» in the «Plaines» publishing house. This is a collection of poetry and prose texts, which reflect the experiences and concerns of the day on topics which he attaches great importance to or which are parts of his work. «Finutilité» will be released for sale at the Montreal Book Fair, in Manitoba and in France.
---
• November 19 - TV emission «Live from his universe» on Saturdays at 19 o'clock.
In the World of Daniel Lavoie.
Bring up the career of Daniel Lavoie is impossible, because the author - composer- performer has been increasing his achievements within 40 years and leaves a deep imprint in the musical genre, both in Quebec and France.
In addition to his solo career he participated in various well-known projects such as the musical «Notre Dame de Paris», where he played the role of Frollo in the original troupe. A very prolific author and composer, he also participated in creation of countless songs, several of them for Bruno, Moran, Mireille Mathieu, Nana Mouskouri, Isabelle Boulet, Florent Pagni, Lara Fabian and Rock Vuazin.
«Tension attention», «Je voudrais voir New York», «Qui sait», «Jours de plaine», «J'ai quitté mon île», «Ils s'aiment» - many names have left their mark throughout the Francophonie in general and which appeared in his album «Lavoie et le grand choeur», published in 2009. Parallel to his musical projects, since 2010 he leads the radio program, dedicated to his hobbies, music and poetry, on the waves of «Espace musique».
Did you know that Daniel Lavoie spent his first tour in a hearse with a group, called «Dieu de l'amour vous aime» (God of love loves you)? All the juicy details will be presented this Saturday at 19 o'clock.
---
•November 24 - Maxime Landry and Daniel Lavoie at the «Star Académie» audition on November 24, at 19.30 in the TVA network.
Montreal, November 23, 2011
Daniel Lavoie, who has recently released the new album called «J'écoute la radio», was presented at the stadium stage in the Jarry park. For audience`s great delight, he played one of the most successful songs in his carrier - «Tension attention», which received the Félix in the category of popular songs in 1984. At the end of the program Daniel Lavoie revealed the name of the candidate chosen by the public.
Montreal, November 24, 2011 - The public and juri voted! Guests - Daniel Lavoie and Maxime Landry announced the names of candidates selected by the public.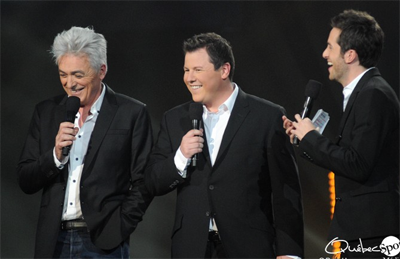 ---
• November 26 - TV emission «Belle & Bum» on Quebec television
episode 213
Geneviève Borne and Normand Brathwaite meet Catherine Major, Daniel Lavoie, Steve Hill, Geneviève Rochette.
---
• December 4 - TV emission «Chabada» on France FR3 television.
The special issue is devoted to «Notre Dame de Paris» concerts: the recording took place on October 24. It was released on December 4
With the participation of: Patrick Fiori, Garou, Hélène Segara, Julie Zenati, Daniel Lavoie and Luck Mervil.
Daniela Lyumbrozo invites artists to participate in the very special program 13 years after their debut in the musical «Notre Dame de Paris».
Helene Segara: «So much emotions and laughter this evening at «Chabada». Bells are ringing for such a meeting after a very long separation».
Daniel sang «Etre prêtre et aimer une femme» and «Belle».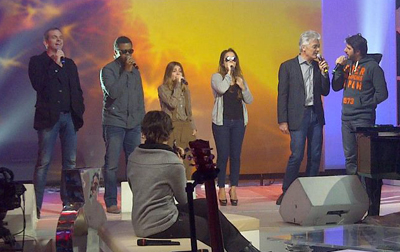 ---
• December 10 - TV emission «Les années Bonheur».
The trio from «Notre Dame de Paris» is performing together again while recording of TV emission «Les années Bonheur», which will be broadcasted December 10 on France 2 channel. Once again Patrick Sébastien and his team invite viewers to revive the great moments. As usual, the host will be in the center of it. The participation of many singers, comedians and parodists helps to set off the «Les Années bonheur» by sensational stories, little secrets and pleasant memories. This is an occasion to meet Charles D. Lewis, Patrick Fiori, Garou, Daniel Lavoie, Aylin Prandi, Antoine, Réel 2 Real, Jean-Jacques Debout, Sébastien El Chato, Seal, Zouk Machine, Dave, Chimène Badi, Les Avions, Matia Mazar, Hugues Aufray, Julie Bataille, Inna Modja, Les Marins and humorists - Marc Donnet-Monay, Anthony Kavanagh and les Chevaliers du Fiel.
The host: Patrick Sébastien.
---
• December 13 - TV emission «Snіdanok s 1 +1»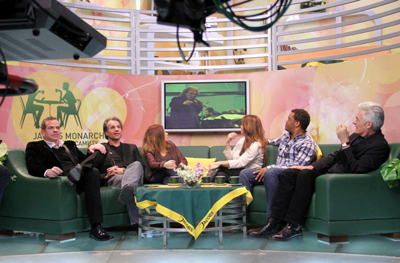 The artists of the legendary musical «Notre Dame de Paris» are presented in «Snіdanku s 1+1» studio. Garou, Bruno Pellte, Daniel Lavoie, Luc Merville, Julie Zenatti and Helene Segara just before the final concert in Ukraine!
---
• December 16 - TV emission «Le journal de 20h».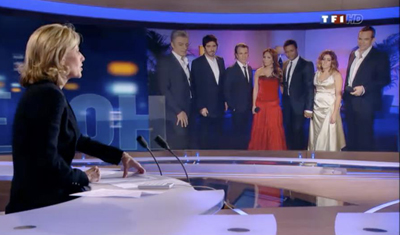 «Notre Dame de Paris» in «JT de 20h» TV magazine The troupe live answers to several questions by Claire Chazal during «le 20 heures» on TF1channel. All seven had gathered for «le journal de 20h».
---