Television and radio broadcasts in 2010
• February 1- 5
Live up to the end (Vivre jusqu `au bout)A series of radio broadcasts by Mario Proulx
«Life to an end» - a documentary series of 5 episodes about 1 hour nong, was broadcasted on Radio Canada in February 1-5 2010 on Channel 1.
The idea of this series was born in October 2008 during the broadcast «Vivre autrement» (to live in a different way), a documentary radio series about health. Mario Proulx, the director, received a letter from a Quebec listener, Yvon Bureau, who wrote: «You should do «Vivre autrement» the next, after «Mourir autrement» (To die in a different way). Mario Proulx and Eugenie Francoeur became very interested in the death theme in our society.
The book
Series is the theme for the book. It is possible to find a dozen of interviews, specially organized for it and dozens of texts by artists like Daniel Lavoie, Jim Corcoran and Pierre Legare, which had been specially written for this broadcast. Mario Proulx asked the authors to write about death.The first episode: To be born on the contrary (February 1, 2010)
The last days of life
The second episode: The zeal of existence (February 2, 2010)
The fear of death and the awareness of life to its maximum point
The third episode: Two great issues (February 3, 2010)
Measures that provide temporary relief and euthanasia
The fourth episode: Funeral sorrow (4 February 2010)
Mourning for adults and children
The fifth episode: Rituals and religion (5 February 2010)
Death and changes in rituals, beliefs and atheism.
http://www.radio-canada.ca/audio-video/pop.shtml#urlMedia%3Dhttp://www.radio-canada.ca/Medianet/2010/CBF/VivreJusquauBout201001280300_m.asx
---
«Studio 12» – the broadcast is dedicated to A. Bashung.
• March 12 – The recording.
• March 17 – The broadcasting.
(Ostend, Belgium)
• March 14
This week, Studio 12 presents a special programm «Hommage à Bashung» in order to honor the deceased one, who left us last year. To remind us the most beautiful songs few famous artists will join - Daniel Lavoie, Louis-Jean Cormier, Stéphanie Lapointe, Bïa and Stefie Shock.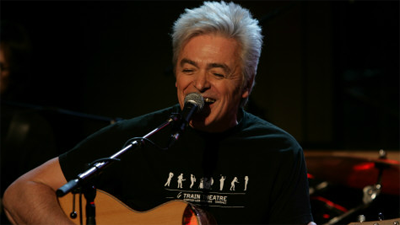 • March 15 - The interview.
The talk about a trio with Alain Bashung: Jean Cormier, Stéphanie Lapointe and Daniel Lavoie.
http://www.radio-canada.ca/emissions/studio_12/2009-2010/Entrevue.asp?idDoc=106686
---
• May 16 – The recording in Studio Makusham (Maliotenam Qc). In the television series about modern national music (the second season) the special series are pointed out, dedicated to performers of all musical areas. The greatest names of French-speaking songs, such as Richard Dezhardan, Chloe Sainte-Marie and Daniel Lavoie.
• May 17 - Daniel took part in the television show on TFO and APTN.
---
• July 4 - Daniel introduced a new radio program, «Lavoie libre» in which he combines music and poetry, to the audience`s biggest delight.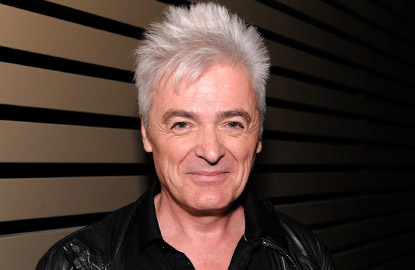 http://www.radio-canada.ca/special/rentree2010/blogue/index.asp?id=130397
http://www.radio-canada.ca/espace_musique/animateurs.asp?an=110302
---
• July 25 - Daniel took part in the program «Pourquoi chanter» on «Men's sensuality».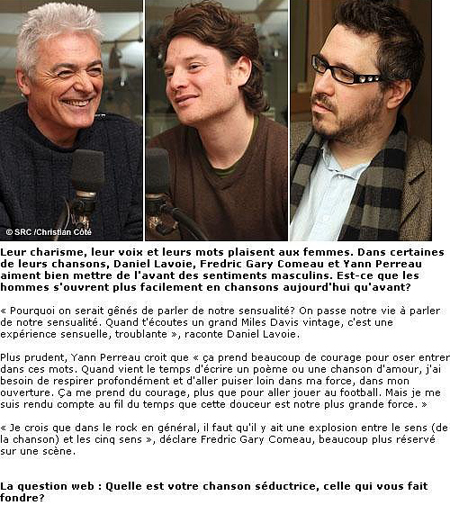 ---
• July 30 - Daniel took part in the television show «Des Kiwis et des hommes ...» In the program «"the kitchen with Daniel Lavoie», he prepared a salad for his own recipe with anchovies and a snack «de kale» from a special kind of cabbage.
---
• August 24 - Participation in the program «Bon Baisers de France» and «Marjo et son homme, Daniel Lavoie».
---
• October 20 - TV interview «Benezra reçoit». «Visiting Benezry» (October 19, 2010)
http://www.musimax.com/video/videos/benezra-recoit/benezra-recoit-daniel-lavoie-daniel-lavoie/
---
• November 20 – the TV program «Ici et là», dedicated to 40th anniversary of Luc Plamondon's career. Luc Plamondon will be on stage «Ici et là».
Luc Plamondon sera sur le plateau d'ICI et là
On Saturday 20 November, at 21.30, Luc Plamondon will be invited to the stage by Sophie Durocher in the TV program «ICI et là» to represent his only TV grand meeting for the release of his koffret «Plamondon- 40 songs - 40 stars in unison»
This special program is entirely dedicated to the extraordinary career of the most beautiful Francophone songs author. The koffret - souvenir includes 4 CDs and a photo album.
Daniel Lavoie, Louise Forestier, Renée Claude, Luce Dufault, Patsy Gallant, Martine St-Clair, Marie Denise Pelletier, Steve Fiset, Michel Robidoux, François Cousineau, André Gagnon, Judith Bérard joined Plamondon to share vivid memories and to perform his most outstanding creations.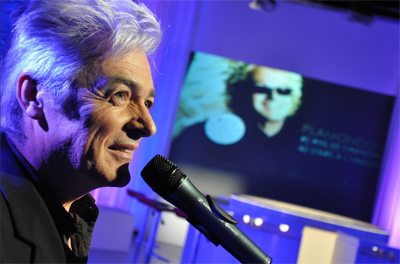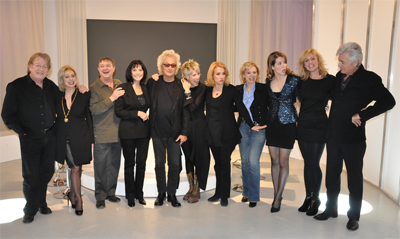 ---
• November 30 - «Studio 12».
• November 28 – the recording.
• November 30 – The broadcasting.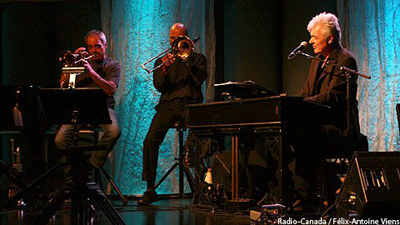 «La guitare, c'est out» - Daniel Lavoie
«La guitare, c'est out» - Daniel Lavoie
Daniel Lavoie is very faithful to his habits. The artist regularly has been playing poker for 30 years now with the same three guys, indigenous manitobes.
«For 30 years I have`t stayed in the loser. All too,» - he explains, stating that he does not invest large sums of money like Guy Laliberté and Patrick Bruel, and sometimes he carries! «The last time I took everything,» - he brags. 120 dollars, summarized with «trente sous!» (Thirty sous).
The team of «Studio 12» gathered around him, thinks over about the origin of the expression «trente sous». Someone tells that the coin actually exists and asks Daniel whether he has the opportunity to see it? «I am old, but not so much» - he replied indignantly.
Daniel Lavoie is certainly not old, but still we know him for very long. First we met with a shy manitobe guy, who played in the bars of Quebec, and then, years later, we loved him as a host of a radio program in the bowels of a huge family d'Espace musique. Meanwhile, he wanted to be simultaneously recognized as the pop star and the artist in France, also the musical star and, no offense will be said, the veteran of the Quebec scene.
Meanwhile, he watching over the younger «with one eye», and they are numerous. Here is Alexandre Désilets, invited by Daniel to "Studio 12". He performed two songs of Daniel, including «Ils s'aiment», one of his greatest success. He does it elegantly, with his gorgeous voice, which seems to be hovering over our heads. We are silent and excited by the breadth of his talent.
To update the songs Daniel entrusted the arrangements to Jean-François Groulx. The only one criteria - two pianos and two trumpets. «The guitar is completely out of the game» - he jokes with a pretending - demanding tone.Obviously, it`s a great fun to try new ideas with his musicians Ron Di Lauro and Muhammad Abdul Al-Khabyyr. Sitting at «la bête» (piano, designed especially for him), he improvises an introduction to «Je pensais pas», picks up a good speed for «Sauvez» and provides an enhanced interpretation of «Je voudrais voir New York», grinning. «Did you recognize Porgy and Bess?" - he asks, being proud of the successfully included passage by Gershwin.
«That's enough for today. Tomorrow it will be better,»- he throws his musicians, finishing the rehearsal.
The artist has no idea that «Studio 12» team is going to perform a little surprise for tomorrow, the day of recording. The director Loue Tremblay knows that he is fond of boxing and therefore invites the champion Jean Pascal to come on stage! Incredible meeting, but it is a pleasure for Daniel. Take a look at the picture, it is worth a thousand words!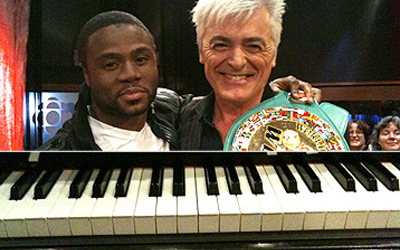 http://www.radio-canada.ca/emissions/studio_12/2010-2011/blogue.asp?id=131223&emi=1065#commentaires
---
• 10 December - participation in the program «Debriefing» Kiev. Channel «Inter».
http://inter.ua/uk/video/program/rozbir_poliotiv/2010/12/10/notre_dam_de_paris
---
• December 31 - January 1, 2011 - Performance in the New Year «Olivier - Show». Russia.
The New Year's premiere - «Olivier - Show» on Channel 1 in the homes of millions of television viewers in the New Year's Eve.
http://www.1tv.ru/sprojects_edition/si5820/fi6825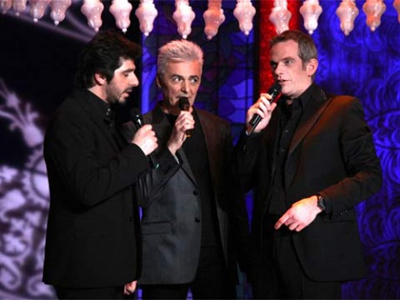 For the first time on russian TV and only at Channel 1 in the first New Year's Eve – the aria «Belle» from the famous musical «Notre Dame de Paris» featuring Garou, Daniel Lavoie and Patrick Fiori.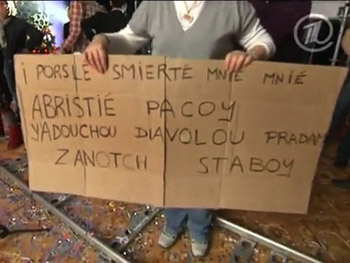 ---
New Year's greetings by Daniel for his russian fans: