The legend of Notre Dame de Paris returned: French national singer Daniel Lavoie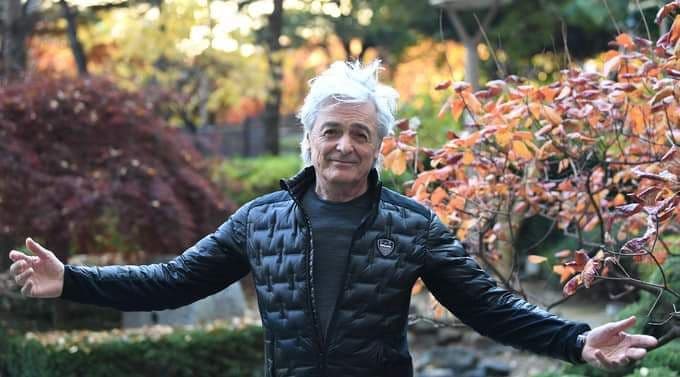 16.11.21. Seoul
«I will do what I love until I die.» Daniel Lavoie, who debuted on the musical stage with the original cast of «Notre Dame de Paris» in 1998, said in an interview on the 16th, one day before the opening of the Seoul concert, «I was forty-seven years old when I first played Frollo. I'm seventy-two now, and in the meantime, my character has changed, and the way I act and the way I express myself has also changed. I'm growing old with Frollo,» he said.
After learning piano at the age of five, music was his path. He led a splendid life as a singer after he first recorded a song of his own in 1973. «Ils s'aiment», first sung in 1984, is still a «French national song» often sung by rookies appearing on audition programs. In his forties, he was honored as a knight of the French Republic for his contribution to the development of culture.
«At that time, when I had nothing more to hope for as a singer, I needed a new challenge.» Frollo, a priest who was tortured by forbidden love in «Notre Dame de Paris», become his work. His musical debut was the pride of a French musical that boasted a personality different from Broadway productions' and became a worldwide box office hit. As an unexpected hit, he turned 72 this year and went back to the stage of «Notre Dame de Paris», and he plans to continue performing on the stage in the future.
«Are you honest about being on stage after more than a thousand times playing Frollo?» – the interviewer asked.
«To be really honest, really, every time I sing, I feel happier and happier. I play Frollo for about 100 days a year, and each time, fortunately, the seats are full and you can see the joy on their faces. I am well aware of how great a gift acting is, so I have never been bored and I am joy and happiness every time.»
The famous French musical «Notre Dame de Paris» has returned to Seoul. The star of the masterpiece, which will be performed at the Sejong Center of the Performing Arts on the 17th, is Daniel Lavoie. Since the premiere in 1998, he is an actor who is passionately acting as Frollo who burns his faith and soul in love for a gypsy woman, as well as a singer, songwriter, and poet beloved by France.
In the interview with the Segye Daily at a hotel near the concert hall, which is now his accommodation, on the 16th, one day before the opening day, he kept a warm smile on his face from start to finish, showing how much he loves to stand on stage and how constantly inspired he is by the music that fills his life up and how ready he is to take on new challenges. He said with a bright smile: «One moment I understood that I desire to grow old like that, because it's natural for me.»
«I will stand on the Korean stage again after about a year since my first visit to Korea last year. I am curious what will be the impression of meeting the Korean audience again. I've heard from a fellow actor that I should have come to Korea before. But last year, unfortunately, it ended prematurely, so I stayed here only for a very short time. So I'm very happy to be back, because also I haven't been able to perform for a very long time because of Corona-19. So I'm happy to start again in a country I've been curious about, with the music and performances I love so much.»
«It's been a while since you've been on stage again because of COVID-19, but did your practice go smoothly? » – the interviewer asked.
«The preparation itself is now smoother than ever. Even when rehearsing, I can feel all the actors and dancers rejoicing and happy to continue their performances again. Even in the practice room, the energy is very good and everyone is in a good mood.»
«I am curious about your first meeting with «Notre Dame de Paris. » The interviewer says.
In a previous interview, he (Daniel) said, «Even if the music is good, it's not a popular song style, so I honestly thought it would go bankrupt.» He said, «I'm proud of being with others on this long journey.»
«Actually, the lyricist (Luc Plamondon) is my old friend. He sent me a cassette and said, «Listen to me. I have a role that I'd like to give you. » «I listened to it and it was really beautiful. However, I said that (that the show will go bankrupt) because it was different from the style that was popular at the time, and at the end I learned a lesson that «We can always make wrong predictions .» As soon as the performance started, it was like a «wildfire ». I was able to see how rumors spread and it quickly became a box office success.»
«It was your debut as a musical actor, but what made you decide to appear in it?»
«I have been active as a singer and songwriter for 30 years in Canada and France. I was a 'big star' of which we often talk about. I was in my mid-forties, but I was so used to life as a rock star or singer, I wanted to try something new. At that time, the only proposal that came to me was «Notre Dame de Paris». It was a new field, so I had to give it a try, but it turned out to be the most successful piece in all French musicals. I know how lucky I am to be a musical actor.»
«Notre Dame de Paris» has a lot of really good songs. Among them, «Belle», sung by the three main characters together, topped the French pop charts for 44 weeks and was even featured in Korean music textbooks. You really sang this song on many stages, do you remember the enthusiasm you had the time?»
«I have some unforgettable memories. Before Belle became popular, the three of us sang this song on a TV programs, and the PD asked us to «Sing it one more time. » We sang well, but when I asked him why he did it, he said, I like the song so much, that I want to hear more. «Then, Oh! There is something special about this song. » Aside from this song, the song I composed in the 80s («Ils s'aiment») was also a huge success, and both are magical. It seems like I've been through the magic of sudden success and forming an indescribable sympathy with the audience two or three times in my life. It's a very old song in the 80's style, but even today, young singers who appear on audition programs keep singing it. It's magical.»
«Why is «Notre Dame de Paris» so special and loved in many countries for a long time?»
«I have my own thoughts, but it may not be the right answer. The story itself is very simple. It is a very simple story of a woman and three men who love her and fight to win her heart. But the way you listen and see the show has a great effect. By telling the simple story so beautifully and thoughtfully, it is capturing the hearts of the audience. It may be the secret to success, I think, but it's just my interpretation and I've been performing for a long time whether it's the correct answer, or not, but I still don't know. Above all, the songs are beautiful. The songs are beautiful and it all seems to have a miraculous effect that we couldn't explain.»
«What is your experience of being on stage again for the first time in 20 years since the premiere with one role?»
«The character Frollo is the most complex character among all the characters of Notre Dame de Paris. And he also become older with me. I was forty-seven years old when I first played Frollo, and now I am seventy-two years old, and I think Frollo continued to change during that time. As a result, the way I act and the way I express myself has changed. What makes this character so interesting and attractive is that he has all the strengths and weaknesses we have as humans. First of all, speaking of the merits, he was a very good and generous priest who raised Quasimodo, the hunchback. And he is also very serious and smart doing in his work. But he feels love that he has never thought of. That's why he's surprised himself, he didn't know how to deal with the feeling of love that he didn't expect. As a result, he commits terrible things, and in this aspect, he is very similar to us, who are only weak human beings. That's why it's so exciting to play such a complex character.»
«As you said, it is a complex character, so is there anything you are particularly concerned about while acting?»
«I can't say I'm attached to any particular scene or put more of work into it. Because every scene is important and in every scene I really have to focus completely on Frollo. In fact, there are scenes that have very little weight and there are scenes that are very tragic, but at any moment, 'You must not be lazy in acting Frollo.' Every scene is so important because it always imprints in my head like it must be seen by him, so I have to be completely immersed in the character of Frollo.»
«Aside from «Belle», Frollo's «Tu vas me detruire» and «Etre pretre et aimer une femme» are really moving songs. It seems like it should be a difficult song to sing, but it is impressive because it feels so natural to sing. How is it actually?»
«(Sighs) It is said that you can sing very difficult songs easily, but that's actually what we're after. The song itself is very difficult. The difficulty is high and the requirements are very high. So you have to practice a lot. To stand on stage like this year, I practice for a month or two and find my vocal technique again. It's very difficult, but I practice so that the audience can hear it as if it's easy. I think it takes a lot of practice in all other fields too, to make something this difficult and seem easy and comfortable.»
«Notre-Dame de Paris is the story of three men and a woman, but the gypsies who wander the streets of Paris and resist, may be another protagonist. What was the reason that the producers gave it such a significant weight?»
«I think it's a bit of a political choice to some extent. There are so many people wandering here and there that there is no place to live on our planet. So, the author put it in intentionally. In human history, there always are stories of people wandering around in search of a place to live like this one. And above all, it seems to be a very important issue in the times we live in right now, for example, when I listen to the news now, not a single day passes without mentioning the issue of illegal immigrants and refugees. So, the existence of these bohemian gypsies seems to be a topic that is both heartbreaking and revealing the problems of modern society very clearly. In the 14th century, written by the original author Victor Hugo, the concept of illegal immigrants existed in the form slightly different from one in which it exists now. However, no matter what's the time the work was made, there were many migrants and refugees wandering around the world in Europe, the United States, and Canada in search of a better life. So I think they put this problem as a gypsy to fit the background of the work.»
«In Korea, you are known not only as a musical actor who played Frollo in the original version of the musical, but you are a well-known singer in the French-speaking world, a writer who has published several books of poetry, a composer who made music for movies, and also worked as a radio host. Which of these activities do you enjoy the most?»
«Actually, whatever the field, I feel the greatest peace and happiness when I am creating and when I am making something. Concerning Frollo, when I am acting or singing, the joy is greater than the difficulties, but when I write or make a song, there are many painful moments that really squeeze my head out. So, if you ask me what do I enjoy the most, it's when I sing and act, but that doesn't mean I like acting or singing more than creating. I love everything I do and it's hard to prioritize.»
«It is said that you learned music from a nun when you were five, is that correct?»
«There wasn't an exact moment when I decided to live as a musician. It was a nun who first taught me to play the piano. And it's not that I decided to make music, but it's the music that chose me. Originally, I wanted to be a doctor. But after learning the piano at the age of five, I just spent my whole life with music. Music is not a difficult field for me, it was easy, and I came here because I was immersed in music for up to 20 hours a day.»
«You said that you grow older with the role of Frollo, but what is the difference between the feelings of playing Frollo now than when you were younger?»
«I can't say what it feels like just to grow older with Frollo, it is the history that is being written right here and right now. As I got older, I didn't deliberately try to keep Frollo young. As I got older, I kept changing my acting so that Frollo would age with me. If you suddenly act as a young Frollo when you're older, the audience won't feel like it is a real thing. The audience must see the character and believe that he is real, but the actor must believe in it too.»
«I heard that a book will be released soon and a new album and a large concert are being prepared. What are your plans for next year?»
«I will publish a book of poems. It was originally planned to be published before the COVID-19 pandemic, but it was delayed due to tangled schedules, but it will be released soon. There will also be an album of songs based on Rimbaud's poems. It's an album that's so unique and not easy to approach, but I think that when I'm around my age, I can do whatever I want to do. Another album will be in English, that I made with my son. My son is also a musician and works as a producer.»
«You may feel like taking a break, but what is the secret to working tirelessly?»
«Hahaha. When I was 27, I declared that I was going to retire. «I will stop now. I'm going to rest. » I kept that word just for six months. After that, I was so tired that I can't do it longer. So, I made up my mind to «do what I want to do and to do what I love until I die ». I feel so happy and lucky to have been able to do what I love so much for a long time after that. I'm going to do what I love until I die.»
At the end of the interview, we asked about the video of the legendary singer Nana Mouskouri singing «Les feuilles mortes» by Yves Montand with him.»
«Yes. Nana Mouskouri was someone I admired when I was younger. I have good memories of singing together like that. Having been active as a singer for a long time, I can say, that there were so many moments with musicians who became legends whom you can recognize just by hearing their names, such as Charles Aznavour (French national singer, 1924-2018), Gilbert Becaud (1927-2001), and Bruce Springsteen. When I look back on those moments, I think, «Life has been so kind to me.»
Interpreter: Varvara Ovechkina
Link: http://www.newstong.co.kr/view3.aspx?seq=10066662